Louise explains why she is standing next to 5,600 lbs of books.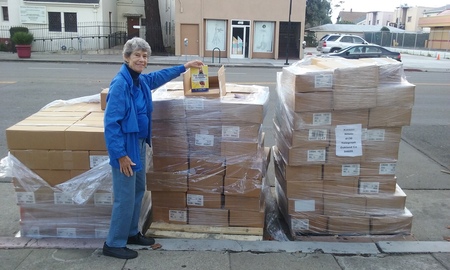 "As you know, my daughter and I wrote The Bullying Antidote: Superpower Your Kids for Life on request from the publisher. Kristen and I had great hopes that our book would help raise a more respectful, kinder generation by supporting parents! You can imagine our shock and disappointment when Hazelden notified us they would discontinue the book as of January 1, 2016. Apparently bullying is 'no longer trending.' But the problem is not solved, especially in our community.
"Kristen arranged for the remaining books to be donated to our Oakland community, in which she and her family have been deeply invested as teachers and parent organizers. (For the last two years, for example, she was president of the largest PTA in Oakland.)
"She discovered Oakland Parents Together, who hosts educational 'Parent Cafes' around the city. They were happy to receive the donation of the remaining books for our community."
Today, 3000 books arrived!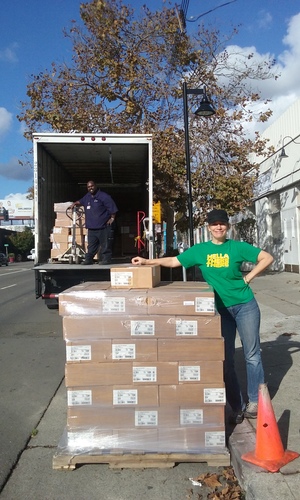 "We need some help to pay shipping expenses. And materials to spread the word. Bringing parents together who will read the book and work to create positive change will create some magic. One reader recently wrote, 'The Bullying Antidote is a wonderful resource—comprehensive and well-written, clear and informative. These are the items I will reference when I use it to teach my classes:
How to prevent/reduce victimization
How to address bullying
Ways to help bullies change their behavior.'
"Please watch Kristen's video and read about 'The Zorgos Project.' She is really turning our lemons into lemonade, to help our children thrive! But she can't do it alone.
"If you could make a donation TODAY, it would show the world that there are people who care about educating parents in a city where bullying, poverty and crime intertwine. And if this project works in Oakland, it could work elsewhere. Even a $1 donation will make a huge difference to kids, and make the world a better place!"
Love,
           Louise